Office/Commercial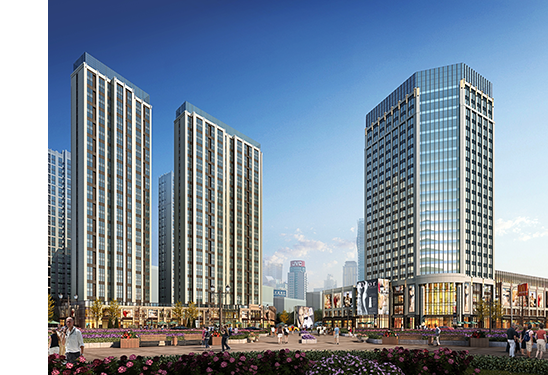 The site locates in Lvyuan District, Changchun, covering an area of over 70,000 square meters, which is constructed above an about 260,000 meter square site. With forward-looking vision, Wuzhong Real Estate introduces advanced international design concepts and deeply analyzes urban residents' life demands to light up the city and boost the improvement of the city's value through developing and operating large urban complexes.
Wuzhong Square is designed to become a social, economic and residential place that improve people's quality and city image through forging fantastic residential design, amenity and great office. It is said to be Changchun's largest international complex project in recent years, containing high-end residence, commercial area, 5-star hotels and 5A-class office building. The residents can enjoy the convenient transportation and take Metro Line 2 to travel around.
This project development is divided into three phases. The first phase has been completed, which is about two residential construction, Tianyue Mansion and Tianxi Mansion. Now, the second phase, a five-class office building called Tianyue International, is under operation. The third phase is planned to develop a 90,000 commercial areas in recent years.

Residential
Tianyue Mansion
As a high-end residence project of Wuzhong Real Estate, a branch of "Tian series", Tianyue Mansion was presented in an early stage as part of Wuzhong Plaza, a large commercial complex. The project is located at the sweet spot of the intersection of three districts in Wuzhong Plaza, providing customers with classic luxurious mansion in the downtown city. As a representative deluxe mansion in Changchun, Tianyue Mansion has beeing looked up to since it opened to the market. The residents also enjoy the great established supporting facilities.

Tianxi Mansion

As a book cover of the Changchun, Tianxi mansion is located at the intersection of three core districts, which ir regarded as the key zone of the city. Easily accessing to Metro Line 2, it is convenient for the residents to travel around. Closing to Jingyang Plaza commercial circle, the residents will find the modern life quite accessible. It is designed to present the beauty of Southern Chinese gardens to the Northern people. The customers can choose the house type from 87 meter square to 160 meter square with great care. It is considered that Tianxi Mansion has reached refresh the peak point of the residence standard. In 2016, this project was awarded as 'Annual Influential Real Estate', and won 'Most Livable Real Estate Award' and 'Boutique Quality Award', making Wuzhong well-known in Changchun.